Sale!
A truly 100% hands free male pleasure machine (or robot) – A robotic device under your complete control, simulating an amazing endless blowjob.
The stroker sleeve is rubber-mounted to the robot arms providing flexibility. It simulates a natural motion because it can twist and tilt while it goes up and down, moving in a gyrational and swiveling pattern.
RUBJOY is controlled by a smartphone app that connects via Bluetooth to the advanced robotics micro controller. RUBJOYS arms are driven by two powerful metal geared digital servo motors that do all the HARD work. RUBJOY is an actual robot, not a toy.
Purchase a rubjoy at our new store – www.rubjoy.store
Out of stock
Description
RUBJOY it's an actual robot, designed to be shown a single move or group of moves, and then to repeat them exactly, over and over again, until you can't take it anymore.
No buttons
– Our product is quite unique as it doesn't have any buttons. There aren't any lights or control systems on the robot itself.
App Control
 – YOU control RUBJOY by connecting it via Bluetooth to your smartphone and by using the RUBJOY app.
Advanced Robotics
 – RUBJOY is a combination of advanced robotics and wild fantasies. Two powerful, metal-geared, digital servo motor-powered arms do all the hard work while you sit back and enjoy as sensations of ultimate pleasure flow through you. Unlike the manual and semi-automated sex toys of today, RUBJOY is a robot.
Stroker Sleeve
 – RUBJOY features a soft TPE toy for maximum pleasure.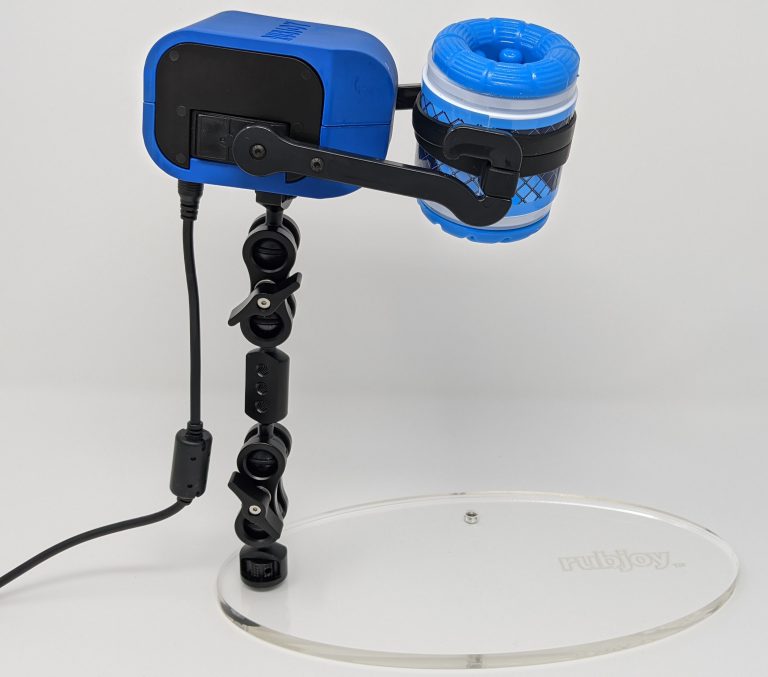 How to use this robot:
Speed – You can go as slow or fast as it suits you. The device is capable of providing more than 200 strokes per minute.
Stroke length – The full length of each stroke can be as long as 6 inches.
Mode – There are 2 modes. The first one incorporates manual operation where you have full, exact, and real-time control over the motions. The second one allows you to enjoy the solo session hands-free by replicating your pre-recorded motions.
Power supply – The device remains connected to the power socket when you use it. It means that you can enjoy using the robotic pleasure for hours as there aren't any time constraints.
App-controlled system – The RubJoy doesn't have buttons that you can use to operate it. You will need a smartphone application to control the device.
Bluetooth connectivity – Connect the device to your phone over Bluetooth. Once RUBJOY is connected, you can control it in real time, or playback motion patterns for hands free enjoyment.
Interactive mode – Video syncing isn't presently available. We are working on it and it will be available soon.
 Tips to use:
The RUBJOY can move in a realistic way; it can pause, stop, slow down, speed up, gyrate, swivel, pump and circle a penis —  all at the user's control.
The RUBJOY is more of a penis pleasuring device — not just a stroker — it is meant for edging and/or simulating the feeling of oral sex as well as basically replacing your hand. It's perfect for a nice, long pleasure session, where you want to draw it out, watch a full adult scene or movie while you're being pleasured. While it can provide a quick wank, you get the most out of it with slower to medium speeds, with it gyrating and swirling around your penis. Like when having oral sex performed on you, it's not about speed — it's about technique.
Included with the device
RUBJOY Robot Soft masturbation sleeve Adjustable stand arm Base plate
Extra attachment bands Power supply & cable
Additional information
Weight
1.5 kg
Dimensions
32.5 × 16 × 16 cm
Size

Max overall height 30 cm
Length (not incl toy) 16 cm
Width (total incl arms) 12cm
Depth 6 cm (not incl stand arm)

Weight

Robot with toy attached and base arm – 700 g ( approx )

Strokes length

Full stroke length can be as long as 6 inches.

Speed

1 – 200+ strokes(depends on stroke length)

Modes

2 MODES – You have full, exact, realtime manual control of the motions or enjoy hands-free playback of your recorded motions.

Assembled In

USA or Canada

Material used

Robot – Plastic, Metal
Stand – Metal
Base – Plastic

Power plug Information

USA type plug. 6v 5A power supply included. Supports inputs of 100-240v 50/60hz.